What is Windows Defender?
Windows Defender is Microsoft's own cyber security program, available for all versions of Windows, from Vista to Windows 11 and can be accessed from the 'Windows Security' settings.
Windows Defender (also known as Microsoft Defender) offers users reliable protection from viruses, malware, ransomware, rootkits, phishing and other online threats by running real-time protection, downloading the latest updates, enabling users to set up monitored folders and allowing users to configure personalised settings.
Microsoft reports that tests have shown Windows Defender performs surprisingly well and can even compete with other antivirus programs like Avira, McAfee, and Kaspersky, which we will explore in more detail later.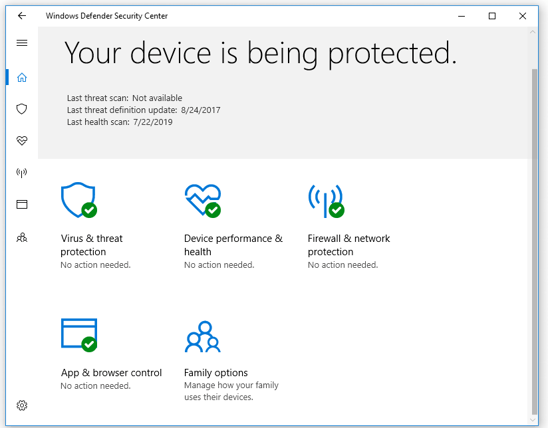 What Microsoft Packages include Windows Defender?
Windows Defender is available with any Microsoft 365 subscription or as a standalone product called Defender for Business.

How are businesses using Windows Defender?
Businesses can use Windows Defender in several ways to protect their devices from cyber threats. Here are a few examples:
Real-time protection: Windows Defender provides real-time protection against viruses, malware, and other threats. Businesses can configure Windows Defender to automatically scan files and programs in real-time as they are accessed, providing continuous protection against threats.


Scheduled scans: Businesses can also configure Windows Defender to perform scheduled scans at specific times. This can be particularly useful for businesses with policies requiring regular system scans to ensure devices are free from malware and other threats.


Endpoint protection: Windows Defender can be part of a broader endpoint protection strategy, helping secure devices across the organisation. Businesses can use Microsoft Endpoint Manager to manage and configure Windows Defender settings across all devices, ensuring they are all properly protected.


Threat intelligence: Windows Defender provides threat intelligence data that businesses can use to detect and respond to threats more effectively. This can include information on the types of threats detected, their frequency, and their severity, which can help businesses prioritise their security efforts.


Integration with other security tools: Windows Defender can integrate with other security tools, such as firewalls and intrusion detection systems, to provide a more comprehensive security solution. This can help businesses detect and respond to threats more quickly and effectively.
Overall, businesses can use Windows Defender in various ways to protect their devices and data from cyber threats. By leveraging the features and capabilities of Windows Defender, companies can improve their overall security posture and reduce the risk of cyber attacks.
DID YOU KNOW?
RoboShadow, with its advanced tools, can thoroughly check the compliance status of your Windows Defender. It helps identify any hidden vulnerabilities and gives practical suggestions to enhance your security measures.

What are the benefits of using Windows Defender for Business?
The benefits of using Windows Defender for Business include:
Assistance to help admins take action with recommendations and insights into improving their security.





Wizard-driven configuration and default security policies designed to help protect devices from day one.





Flexible solution that works with Windows, apps for Mac, iOS, and Android devices.





Real-time detection of known or trending threats, including zero-day attacks and ransomware.





Ability to use as a standalone solution or a part of Microsoft 365 Business Premium.
Another benefit of Windows Defender is the option to choose from free or paid plans, making the product accessible to businesses of all sizes. And, if you do choose to use the free version, RoboShadow enables you to centrally manage it.
Top Industries that use Microsoft Defender
The data below is taken from a recent study by Enlyft and shows the most common industries that use Microsoft Defender. Unsurprisingly, Information Technology and Services businesses make up the most significant percentage, with Windows Defender being most commonly used by businesses in the US, UK and Canada.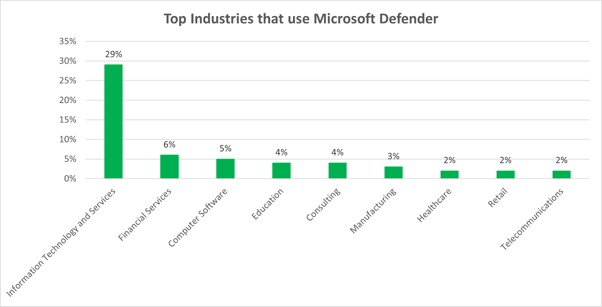 Why are some businesses choosing to use Windows Defender over traditional AV products?
Windows Defender has a longstanding history, dating back to 2006. Initially, the software did not fare well among cybersecurity experts, who often recommended alternative antivirus solutions for businesses. Despite this challenging start, Microsoft persevered, dedicating substantial efforts to refining and optimizing the tool. Their tenacity paid off, as Windows Defender ultimately emerged as one of the top-rated antivirus applications on the market.
AV-Test is an independent testing lab, and in 2020 they carried out thorough testing of Windows Defender. Surprisingly, it got an extraordinary score of 6.0/6, making it more than credible for businesses worldwide.
Now that Windows Defender was recognised as a viable option for AV, businesses started to realise other advantages to using it over traditional AV products, such as:
Built-in to Windows: Windows Defender comes pre-installed on Windows, making it a convenient and cost-effective option for businesses already using Windows as their operating system.


Integration with Microsoft Endpoint Manager: Windows Defender integrates with Microsoft Endpoint Manager, which allows businesses to manage and configure their security settings across all devices centrally.


Low system impact: Windows Defender has a relatively low impact on system performance compared to some other antivirus software, which can be important for businesses that rely on high-performance computing


Regular updates: Windows Defender receives regular updates from Microsoft to address new threats and vulnerabilities, which can provide businesses with peace of mind that they are protected against the latest threats.
Overall, the combination of convenience, effectiveness, and low system impact make Windows Defender a compelling option for businesses looking to protect their devices from cyber threats.

What's new for Windows Defender in 2023
As we mentioned above, regular updates are essential to keep up with ever-changing threats.
Here is a summary of the most recent updates (March 2023)
Monthly security summary report - this new summary report will show how secure an organisation is. It will allow businesses to view threats detected (and blocked) by Defender for Business and the security status from Microsoft Secure Score. Furthermore, it will provide recommendations to improve the score and, therefore, the security of the business.


Device exposure score - Microsoft Cloud Solution Providers (CSPs) that use Microsoft 365 Lighthouse can now view and manage device exposure scores enabling them to discover which customers' devices are at risk because of vulnerabilities.
Conclusion
With real-time protection, scheduled scans, endpoint protection, threat intelligence, and integration with other security tools, Windows Defender provides small businesses with a comprehensive security solution that is easy to use and manage. By investing in Windows Defender and making it a part of your broader cybersecurity strategy, small businesses can ensure they are well equipped to defend against the ever-evolving threat landscape and safeguard their critical business assets.
Posted by
Terry Lewis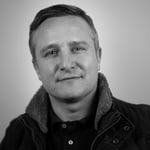 I'm lucky to have worked in technology all over the world for large multi-national organisations, in recent years I have built technology brands and developed products to help make technology that bit easier for people to grasp and manage. By day I run tech businesses, by night (as soon as the kids have gone to bed) I write code and I love building Cyber Security technology.